Thursday, March 25, 2021 -

10:00am

to

3:45pm
NOTE COURSE TIME AND YOUR CORRECT TIME ZONE
 (10am-4pm ET, 9am-3pm CT, 8am-2pm MT, 7am-1pm PT)
Early Bird Rate – $89.00 per person – Expires 2/26/2021
Regular Rate – $99.00 per person – After 2/26/2021
The Certified Ambulance Documentation Specialist (CADS) certification is the first offered by NAAC that is specifically geared for EMTs, paramedics and other EMS field practitioners. It is also appropriate for EMS QA/QI personnel, supervisors/managers, compliance officers, billers and anyone else involved in EMS clinical care or any aspect of the ambulance service revenue cycle.  Every one of your agency's EMS field providers should take the CADS course. Having providers at your agency with the CADS credential shows a true commitment to quality care and top-notch documentation by your agency.
Getting field providers to consistently produce high quality patient care reports (PCRs) is one of the top concerns mentioned time and again by EMS chiefs, ambulance company executives and other industry senior leaders.  If EMS documentation isn't up to par, the consequences can be far-reaching. Poor PCRs can expose providers to liability in court, cost the ambulance service money in lost revenues, and create compliance problems in the event of an audit.
CADS is the only professional designation in the EMS industry to solely focus on documentation skills. And let's face it – those are skills that providers just don't get enough of in EMT or paramedic school. 
Completing the CADS Course will:
Facilitate high quality patient care
Reduce provider liability
Enhance the quality of the clinical narrative
Improve billing accuracy
Boost agency compliance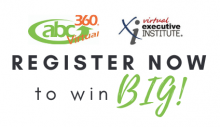 If you are registered and paid in full by February 26,2021 for any NAAC Live 2021 Course, you'll be entered for a chance to win a FREE future 2021 XI or abc360 Conference Registration
NEED CEUS?  Register for XI or abc360 Virtual – click HERE
XI – April 27, 2021
abc360 – April 28-29, 2021