An Unprecedented Opportunity to Obtain Ambulance Compliance Credentials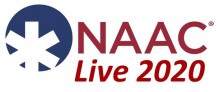 NAAC – is offering all four of its national ambulance compliance certification courses virtually: live & in real time – over two weeks in September.  These courses CAC, CACO, CAPO, and CADS are offered at non-overlapping times and dates, to give America's EMS and ambulance compliance professionals an exclusive chance to get all of their NAAC credentials in a few days.
What is featured?
Live instructors – not pre-recorded courses
Full opportunity for Q&A
Real-time schedule just like our in-person classes
Immediate access to each final exam
Instant certification upon completion and passing the exam
When is this happening?

September 9-10, 2020 (2 days)
September 14-16, 2020 (3 days)

September 21-22, 2020 (2 days)

September 24, 2020 (1 day)

NAAC-certified individuals can also obtain all of their annual required continuing education requirements by attending the PWW XI/abc360 conferences, October 20-22.  CLICK HERE for information on our Fall Conference.

NAAC Live 2020 is different from our traditional, self-paced online courses.  During NAAC Live 2020, the courses will be presented live on specific class schedules.  NAAC Live 2020 is the perfect opportunity for folks who just want to "get it all done" right away.  Don't miss this first time ever, extraordinary opportunity to obtain the credentials you need to succeed.