Below are unedited comments we have received from our Certified Professionals upon completion of the programs.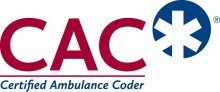 "That was the most informative and "meaty" training I've attended in 20 plus years of healthcare.  I just wanted to thank you all for the thorough training." ​
"I had very little knowledge of the billing process prior to this course.  My department uses a third party biller and I felt that we needed training to properly oversee the vendor.  This course provided just what I was looking for and am now much more comfortable in my ability to assess our biller's performance and the documentation from our field medics."
"As a CFO, this course helps provide a foundation to understand and support what my billing staff do on a day to day basis."
 
"This was the best training I have had for this. I am new to ambulance coding and this set me on the right path to compliance."
"Finally! Expert level training that is specific to the challenges associated with ambulance billing. In an ever changing industry, it is vital to have the level of education that is provided by NAAC . Educating ambulance billing staff was never a top priority, until now."
"I mostly take care of the ICD-10-CM codes in my position, but this class provided me with a ton of knowledge about choosing the correct level of service, and making sure that all of our documentation is complete and we have PCS and ABN forms when we need them."
"Ambulance coding is so much different than medical coding. A certification for such skills is long over due. Thank you! This course touched on every aspect of the ambulance billing office. It is a great insight to other areas of the department for those who aren't aware of everything else that goes on."
---

"A compliance program is a requirement of our newly awarded international accreditation. I think the administration's original compliance concerns were with the EMS/Fire rescue operations. This course demonstrates that other equally important risks exist and that compliance is bigger than just one person."
"I found that the engaging speakers were more effective. Thank you for the valuable information."
"One of the most educational certification courses I have ever attended."
"This course really helped me understand where our compliance program is, where it ideally will be, and the steps and prioritization necessary to move our program in that direction." 
"The up to date information was valuable, the real life examples of cases were also great. I think the most valuable aspect of the course, was having everyone available to the attendees for questions."
"The course exceeded my expectations. Many courses of this type are dry and minimal in anything other than core content. This CACO course was dynamic and well presented. I really appreciated that. I was directed to obtain certification by our board of directors after being formally voted in as Compliance Officer, so the course was timely and relevant."
"I was recently told that I was the compliance officer for our service. I really didn't even know what that entailed. Good thing I attended this training. Now I feel like "I got this"!"
---

"Amazing course overall, instructors did a great job of going every section. So much information, I cannot express enough how valuable this course is. I am recommending my Department consider having a few others take this."
"Thank you to all those who presented and put this together! I'm sure it's different to do this all virtually but you handled it with grace!"
"I learned so much at this training and it has given me an entirely new perspective regarding how we will approach Privacy in our agency.  I now have the tools to assist our agency in safeguarding our PHI and comply with all aspects of HIPAA."
"It was very interesting to find more information out on how to deal with the privacy issues. I didn't realize there was so much more information behind HIPPA."
"Great content and the instructors were able to explain it in a way that was easy to understand."
"I thought I had a good understanding regarding HIPAA, but I discovered that I knew enough to get by. Now I am confident that I can make changes to our program that will allow us to handle any issues that come up."
"This course was eye opening.  There were many facets that I had not considered regarding HIPAA that were presented in the material."
"This course is a "must have" for anyone who has responsibilities pertaining to HIPAA at their organization. This class provides the knowledge and skills that will help you be a successful designated privacy officer."

"After 34 years of hand writing and typing reports you could never get enough training on the importance of PCR reports. this should be mandatory for every EMS clinical provider every 2 years. THANK YOU SO MUCH."
"Amazing course, wonderful information. Will be useful for a more successful EMS office. Will also recommend this to others."
"Great course! Thank you for keeping us engaged, it was fun!"
"This is the first time someone has brought clinical, billing, and coding together into one series of lectures and demonstrated how interdependent they are."
This class covered in detail all aspects of creating a PCR that can be used for billing, compliance, and legal situations."
"CADS was a fantastic course that broke down the section of information and pointed out the value of thoroughly documenting patient care.  It is great information for providers, but is also beneficial for management, quality improvement staff, and billing departments- all who will interact with the providers."
---
For more information, please e-mail us atCustomerServices@AmbulanceCompliance.com.